"You Can Only Make a First Impression Once. We Make it Twice"!
---
DEBRA & LISA GANZ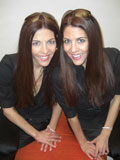 Debbie and Lisa Ganz are the founders and creators of the world famous Twins Restaurant, NYC. (presently relocating to Times Square) Their unforgettable charisma & vivacious flair, combined with their 10 years in the hospitality business, has created "The Ganz Twins" - Media personalities. Over 600 television appearances, radio guest speakers, print campaigns, product spokespersons and on line chat interviews, has taken their marketing savvy to another level - Universal commodities. They are now cast as twin experts and media on air personalities. Debbie and Lisa have been cast as twin spokespersons for companies ranging from Maytag's new Gemini Range to the Detto Computer to TV special segment reporters. They are presently forging ahead with their vision of having their own talk show and radio show . They will utilize the amazing and powerful voice they have created globally while simultaneously entertaining and helping those they come in contact with -both twins and non twins alike.
In addition, the Ganz's have created exorbitant support networks and awareness for this wonderful subculture of twins and multiples through brilliant marketing and a continuous passion. Currently one in every 40 births is a multiple and they have capitalized their twinship into a business of helping twins and parents of multiples. They reunite twins separated at birth, hold twinless twin events, cater to twin weddings, twin baby showers, twin fundraisers and sponsor twins festivals. They have launched the largest non-profit organization in the world for twins, have created a help line and information line for multiples around the country, written the largest photo gift book in the world for twins, and continue to establish and develop programs furthering twin awareness and support.
(Click here for photos)
TWINS TALENT
Debra & Lisa have created "TWINS TALENT", the ONLY referral service/talent agency exclusively for Twins and multiples around the world. They cast for film, print, commercials, trade shows, TV, special events, and corporate events. CALL OR EMAIL US IF YOU ARE LOOKING FOR TALENT OR YOU ARE MULTIPLES AND WANT TO GET INVOLVED: twins@twinsworld.com or 1-800-RU-TWINS/
Click here for more info
TWINS RESTAURANT
Twins Restaurant is the only restaurant in the world staffed entirely by identical twins. Along with partner Tom Berenger (he is not a twin), Twins Restaurant became a shrine for multiples around the world. All the twins worked at the same time, in the same shift , in the same outfit. If one got sick, they both stayed home, and if one was fired , they were both fired. Over the 5 years Twins Restaurant was open, Lisa and Debbie met over 100,000 sets of multiples who dined with them from around the world. When twins came in they signed our twin guest book , had their picture taken and got two for one drinks. Twins Restaurant is currently closed; we hope to relocate some day.
Click here for restaurant photos
THE BOOK OF TWINS and TWINS CALENDAR
From the foundation of Twins Restaurant, they have created other exciting businesses. Lisa and Debbie Ganz are the authors of the highly acclaimed photo gift book "THE BOOK OF TWINS - a celebration in words and pictures". The book of Twins is a 150-pg. photo gift book, which provides a rare journey into the magical world of multiples through magnificent photos and original essays. Keep checking for the next exciting book of triplets , quads and quints …… With the success of their book they then released the first ever twins calendar appropriately called -"TWINS" in June 99. Call us for more info on ordering autographed copies of the book : 1-800-RU-TWINS
UPCOMING PROJECTS
T.W.I.N.S-TWINSWORLD INTERNATIONAL NETWORKING SOCIETY-NON-PROFIT

The purpose of T.W.I.N.S is to create a cohesive international network which will promote and provide services dedicated to support, education, enrichment and well being of twins and multiples worldwide.. T.W.I.N.S will offer unparalleled access to the entire world of twins and multiples. To become involved or for more info, please contact us at twins@twinsworld.com or call 1-800-RU-TWINS/212-289-1777

SOME OF THE PROJECTS AND GOALS OF TWINS ARE:
Create a Nationwide Scholarship Network encompassing a collection of nationally recognized universities that will offer discount packages for entrance, housing, and school supplies to those multiples qualified to attend.


Create National Discount Programs for multiples and parents of multiples which will provide financial relief due to the high cost of multiple births. This will program will extend to and include not only newborns but also multiples extending into early adulthood . This discount programs will encompass not only national retail chains but also Airlines, automobile companies, health insurance plans up to and including all facets of necessity in the child rearing years.


Establish ourselves as a bridge between all of the multiple organizations that exist worldwide, forging unity amidst the multiples world whereby becoming the voice to network any multiples in need worldwide.


Creating Educational brochures(The multiples births bible) to be distributed to all Neonatal clinics/ Preemie Wards/ Obgyn/ and fertility centers nationwide offering Medical insight, financial and social program opportunities, special needs support groups, Online networks, outreach programs and "What to do info" for parents of newborns as well as information applicable multiples through early adulthood.


-Create Advocacy and research programs recognizing multiple births as a special need sector


Promote Advocacy of sound multiple related health issues related to medical policies


Create an international sub-network of support and outreach to parents of multiples with varying degrees of physical and mental challenges


Advocate and support twin and multiple medical research studies focused toward the eradication of a number of debilitating illness and diseases directly affecting multiple birth children


Advocate and support research studies focused toward the eradication and cure of a variety of illness not necessarily for multiples but utilizing multiples a as a placebo study group.


Increase the social opportunities for multiples through the promotion and enhancement of various twins festivals worldwide


Establish the largest international adult network of multiples providing emotional and social support to a variety of twin related issues(identity, fighting, twin loss etcc…)


Creating the largest on line museum in the world for multiples offering information, history and photos for the enhancement of the multiples understanding worldwide.
---
© 1999-2009 Twinsworld.com, Debbbie Ganz c/o Twins Talent, PO Box 1253 New York, NY 10028